Darlington, SC – NASCAR is finally returning after a short recess due to the Coronavirus outbreak. NASCAR is the 2nd major sport making its comeback to live events after the UFC. NASCAR will be running a completely different schedule the rest of 2020 and restarting the season in Darlington, SC this Sunday at 3pm. There will be no qualifying for this race and the lineup will be determined by both owner points and a random draw.
Group E Winner:
Austin Dillion (+265) > Chris Buescher, Cole Custer, Christopher Bell    
Matchups:
Austin Dillion (-115) > Cole Custer
Austin Dillion (-115) > Christopher Bell – Looking at the matchups some of the best value on the board is with Austin Dillion in the #3 car.  Over the past 4 races at Darlington, Dillion has an averaged finishing spot of 10.5 including a top 5 in 2017. Dillion also has a 4th place finish in Las Vegas already in the shortened 2020 season.  Cole Custer and Christopher Bell are both running Darlington for the first time in the NASCAR circuit and that will be a difficult task first time out. In the last 4 races at Darlington, Chris Buescher has averaged a 14.75 finishing spot and zero top 10's. I am going to go with the more experienced and proven driver at Darlington in Austin Dillion.
Matt Kenseth (+115) > William Byron – Matt Kenseth will be taking over the #42 car for the suspended Kyle Larson.  Kenseth has not raced since November 2018, but I am not worried about any rust he may have. Kenseth has had a top 10 finish in 5 of his last 7 races at Darlington including a 1st place victory in 2013. So Kenseth knows this track well and will be racing in top-notch equipment in Chip Ganassi Racing. Opposite him is William Byron who has only raced at this track twice in his career. In 2019 he finished 21st and in 2018 35th. So he has not ran well at this track. I'm going to roll the dice with Kenseth in this matchup at plus money.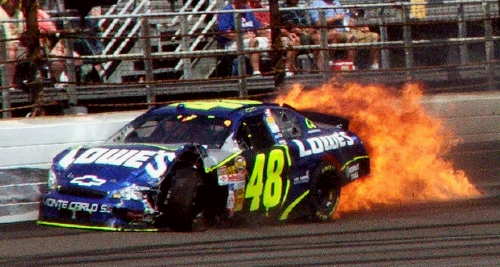 Ryan Blaney (-105) > Jimmie Johnson – This is one matchup that really stood out to me on value. Ryan Blaney started out the 2020 season with a 2nd place at Daytona and also had a shot at a top 5 finish in Fontana until a blown tire in the final laps sabotaged that. Blaney has an average finishing spot of 18th over the last 4 races at Darlington. While Johnson, on the other hand, has been a driver that starts out well and fades to back in the last 4 races at Darlington (chart shown below). This will be Johnson's final year in a race car so he will not back down easily. But to me, this is insane value on Blaney with the short price I'll take my chances.
| | | |
| --- | --- | --- |
| Jimmie Johnson at Darlington | Started | Finished |
| 2019 | 6th | 16th |
| 2018 | 20th | 39th |
| 2017 | 18th | 12th |
| 2016 | 9th | 33rd |